Lake Forest Park Water District
serves water to 905 connections within the City of Lake Forest Park, a suburban, residential community rising from the north shore of Lake Washington, near Seattle. Three elected Commissioners direct the District and have retained a General Manager and other part time and contracted staff as necessary to manage the affairs of the District. The District holds regular monthly meetings on the third Wednesday of each month at 6:00 PM. These meetings are public and you are invited to participate.
In March 2000 the District changed its name from "King County Water District #83" to "Lake Forest Park Water District". The name change does not in any way reflect a change of ownership or management of the District. The Board of Commissioners voted on the name change to reflect the unique character of the District in relation to its surrounding environment, and to better promote that identity with its customers. Henceforth, any documents reading "King County Water District #83" or "KCWD #83" implies "Lake Forest Park Water District".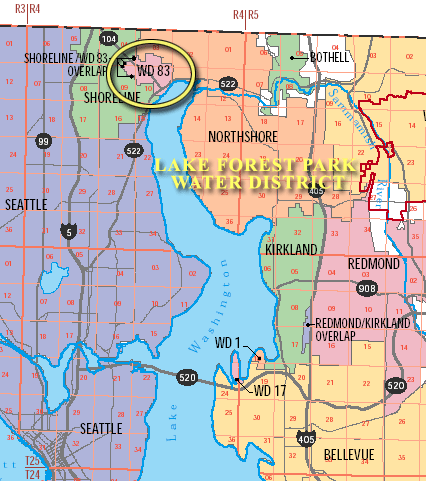 Background & History
From the inception of the Lake Forest Park area in 1909, its founder and local legend Ole Hanson recognized the value of the pristine springs available for drinking water. The canyon drinking water source was being used by loggers in the area and Ole was quick to see that the artesian springs would be one of the main features of his designed Lake Washington community. He proceeded to develop the artesian springs into a clean, natural water source for residential use.
Historically, the water system has involved and been administered by several different groups. Initially Ole Hanson, while promoting and selling the first lots in Lake Forest Park, ran mains and built tanks to supply early residents by gravity flow. From 1913-1927 The Lake Forest Power, Water and Light Company, a subsidiary of the North Seattle Improvement Company, managed the system and installed additional tanks, pumps and mains. After 1927, Lake Forest Park Water Company was formed by local residents and members of the local Lake Forest Park Civic Club who felt that local control would result in better supply and oversight. With help from the State of Washington, the Water Company purchased and managed the system while making major infrastructure improvements. Finally in 1954, after six years of negotiations, Lake Forest Park Water District (then King County Water District #83) purchased the system at a price of $50,000. Since then, it has remained the same Special Purpose District doing one thing; providing locally sourced, untreated drinking water to appreciative residents.
Throughout the history of the natural sourced system, protection of our local source water and our private watershed has been a primary concern and goal of all of our collective owners and operators. We currently have two wellfields, the primary one being the original East Watershed and an additional wellfield adjacent to the Horizon View Park. Our current system is a mix of deep wells and the original artesian wells. Lake Forest Park Water District maintains a strict water quality testing schedule through private labs and is regulated by the State of Washington Department of Health. We have additionally, interconnections with adjacent water systems in case of emergency.
Lake Forest Park Water District provides drinking water and fire flow to about 2400 residents or one quarter of Lake Forest Park. The area is made up of 1.5 square miles of rolling terrain marked by high ridges and steep valleys.  Ground elevations range from a high of 420 feet to 20 feet above sea level near Lake Washington.
The table below summarizes major physical and administrative developments the District has carried out over the last century.  Over this period the District has opted to remain independent from purchased water and has continued to develop its own artesian and deep wells located in its Wellhead Protection Area (WHPA).  To improve reliability of supply, the District has increased storage, while at the same time, attempting to increase emergency interconnections with adjacent systems.
Timeline
DECADE
PHYSICAL
ADMINISTRATIVE
1910
Lake Forest Park residents served by privately owned wells and springs
Covenants added to LFP deeds to protect water source. Ole Hanson installs system.
1911
Water system being installed
1913
Lake Forest Power, Water and Light Co
Owns and Manages system, assumes from Ole Hanson & Co.
1920
1926 Beginning of the LFP Water Co (LFP Civic Club) & purchase of existing system from LFP Power, Water & Light
1927 Wood stave resevoir and steel water main extension replaced and installed
1940
1948 Artesian wells in service prior to 1948
1948 KCWD 83 chartered
1954 KCWD 83 buys LFP Water Co for $50,000
1950
1954 Board resloved to contract with Heath, Hammond & Collier as District Engineer
1955 40th Pl & 45th Pl mains installed
1958 Begin discussion on property west of right of way in east watershed
1960
1960-67 Wells 1,2 & 3 drilled and placed in service
1963 200,000 gal steel standpipe for high zone installed
1966 West watershed discontinued
1967 240,000 gal steel reservoir for low zone installed
1960-67 Ground water rights for Wells 1,2 &3
1961 FD#16 buys 1/2 of property on NE 178th
1961 Proposals to lower rates, Commissioners paid $10
1964 Super Hedblom retires & Super Chalmers is hired
1970
1977 West watershed sold
1970-71 Purchase of Lange property, 700 customers
1973 Comprehensive Plan by HCW-L (August)
1980
Sale of 3 lots (2 in watershed)
'47th Ave. & 184th main replacement
'184th "Canyon" main replacement with 12" D.I.
180th main extension
Well #4 drilled
1984 Comprehensive Plan by HCW-L (March)
1990
1990 Watermain replacement program
1992-98 installed sample stands
1993 District offices bought & installed at 4029 NE 178th
1994 Watermain replacement program
1992 Superintendent Chalmer retires, Manager Lay is hired
1994 Pump installed in well 4; master meter installed
1995-98 Litigation over 1994 Main Replacement
1998-99 SWD proposes merger, District declines
1998 Interior of low tank recoated
2000
2000 Change name to Lake Forest Park Water District
Community Vision
The District serves a quiet forested bedroom community within the City of Lake Forest Park, at the north end of Lake Washington.  A few excerpts from the Lake Forest Park Comprehensive Plan, 1994, shed light on the nature and character of "the Park" which the District serves:
It was conceived as a unique residential community in 1909…

Lake Forest Park always has prided itself on its fundamental character as a community of single family residences…

Lake Forest Park gives one the feeling of tranquility and peace that a park engenders.

Most of the community is supplied with water from a water district serving just our area. The water quality is remarkably pure and the aquifer seemingly inexhaustible. The aquifer is the area of large residential lots and undeveloped lots…to the north of the City.

There is a significant history of citizen involvement in our community…

Our residents are also noted for being environmentally sensitive…

Lake Forest Park has generally kept its property levies under those of King County. We feel that we have carefully managed tax dollars to provide better police protection, better road maintenance and better service than can be provided by….

Lake Forest Park seeks to live in harmony with its neighbors. We are not eager for growth for its own sake. The City is also amenable to dialogues about contracting for certain municipal services without necessarily becoming part of the political identity of Lake Forest Park.

"…wishes to remain a small, incorporated municipality whose city officials are known to most residents on a first name basis…
Excerpts taken from Lake Forest Park Comprehensive Plan, 1994, Section II "A Vision for Lake Forest Park" – adapted from "Identity of a Community", by R. Morrissey, dated 1991
The District, or its predecessor, has supplied water to its present service boundary since the 1940's, when there was significant suburban residential development.  There has only been incremental growth since this period, and that has been predominantly through in-filling.